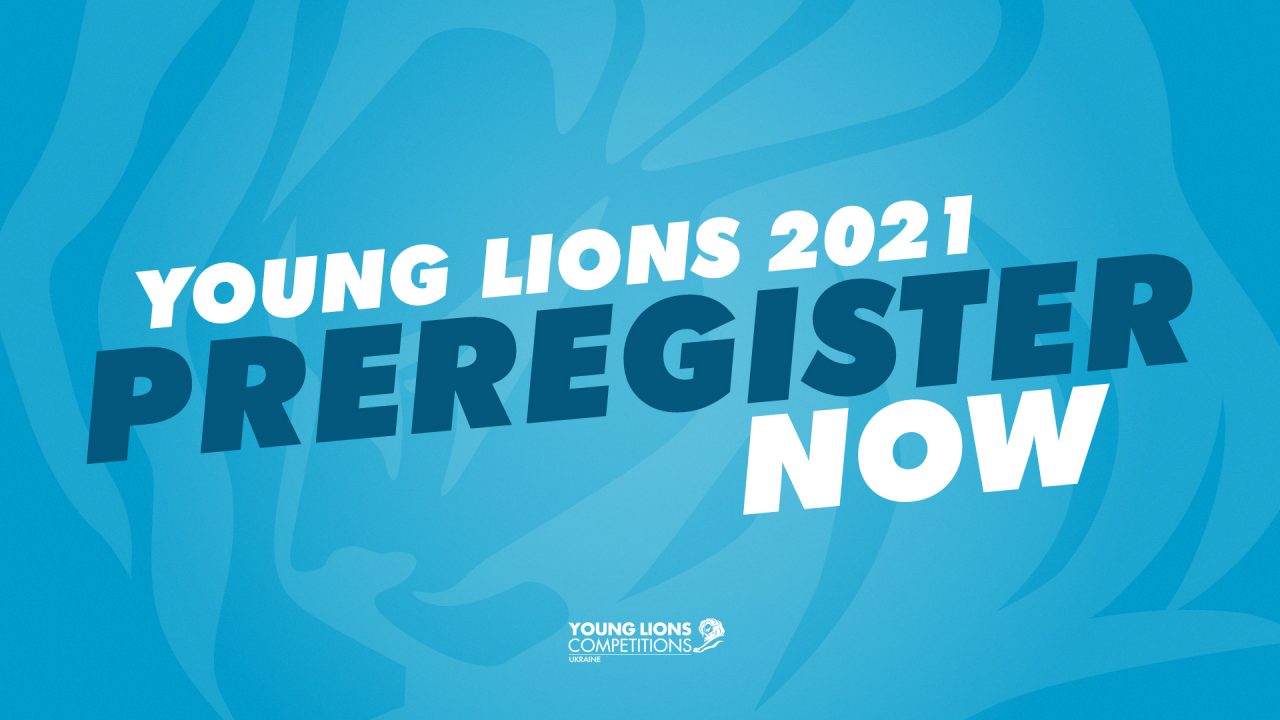 Pre-registration for Young Lions Competitions 2021 is opened
The Cannes Lions Representatives in Ukraine announce pre-registration for up to 7 Young Lions Competitions (YLC) categories, including the Young Lions Marketers Competition (YMC) 2021.
Local competitions in 2021 will be held in several categories. The final announcement of the competition categories confirmed by the organizers will appear early next year. Currently, interested participants have the opportunity to choose 1 or 2 categories out of 6 possible in YLC (Design, Print, Film, Digital, Media, PR) or pre-register for the YMC competition for young marketers. This opportunity is already available through the CIAU competition system: https://contests.creativity.in.ua/.
During registration, participants can choose the Primary Competition category — the main category in which they plan to participate. In addition, the system offers a choice of Alternative Competition category — a secondary priority category, in which it is interesting to participate if the main one is not confirmed by the organizers. Available categories in 2021 will be distributed among countries depending on international quotas. One team will eventually be able to participate in only one competition category.
"As a Cannes Lions representative office in Ukraine, we see an increase in interest in the competition every year. Compared to 2017-2018, the number of participants in 2020 has increased 5 times! This means that talented young people have fewer obstacles to gaining international recognition every year. At the same time, we receive inquiries from participants regarding additional competition categories. Therefore, before the official announcement of the next competition, we decided to hear the thoughts of young creators and suggested them to personally choose the categories to participate. In this, as in all other issues related to youth development, the Cannes Lions Office and the Creative Industries Association of Ukraine (CIAU) are opened to dialogue and suggestions" — Konstantin Kuznyetsov, Cannes Lions Official Representative in Ukraine, Head of the board CIAU.
 According to the official rules, teams of two people can take part in YLC and YMC competitions. As of June 21, 2021, each member of the team must be no more than 30 years old. Representatives of creative, advertising, marketing, digital agencies, freelancers and in-house brand teams can register in YLC and YMC. Contact the representative office for details.
The winning teams of the local competition will represent Ukraine at the international stage during the Cannes Lions Festival in 2021 in France.
More about the competition of young creators: creativity.in.ua/ylc and young marketers: creativity.in.ua/ymc 
You can pre-register at: https://contests.creativity.in.ua/