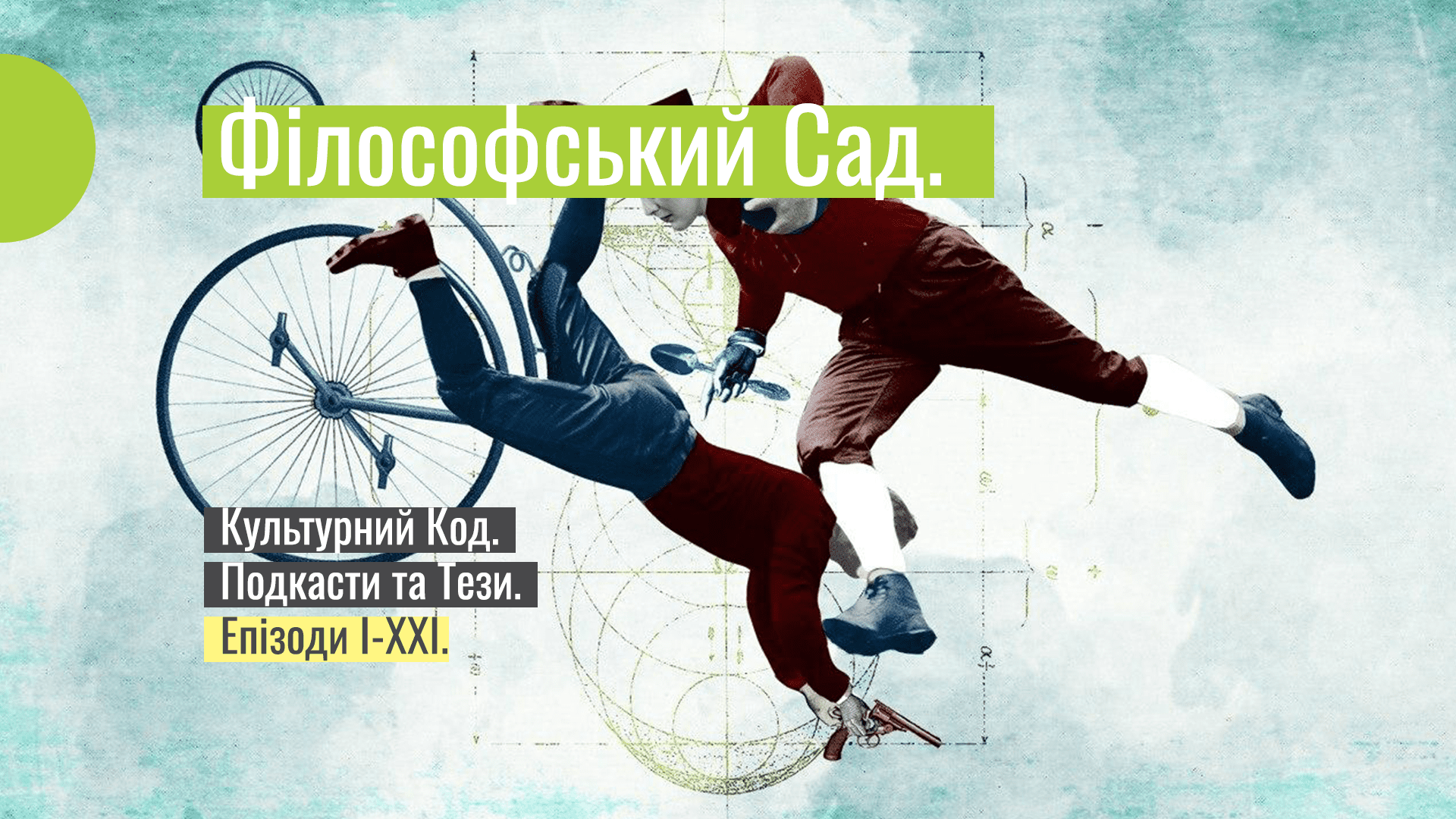 "The Philosophical Garden" project
"The Philosophical Garden" project provides access to a series of podcasts and longreads about culture
Each podcast and longread of the "Philosophical Garden" project is a conversation and a search for answers to the questions: "What language do artists speak to business people?". How and why people become connoisseurs of culture, how they engage in dialogue with people of art about masterpieces of music or painting, theater or literature.
The birth of idea
A year ago, the educational campaign "Philosophical Garden" was launched. The initiators of the campaign recorded several conversations with artists and business people. The project was initiated by the team of the Public Union "Cultural Business Educational Hub" together with GogolFEST for DniPRO GogolFest, which was held for the first time in Dnipro on September 27-29, 2019.
In March 2020, the team of the Public Union "Cultural Business Educational Hub" decided: in addition to podcasts we need to create text longreads. And continued to finance the project. One third of the costs could be covered due to the victory in the competitions of the program "Cultural Capital" of Dnipro and the program of local government and coverage of Dnipro City Council. An editorial and design board was formed to organize the writing and sound material, in which professionals from Poltava, Lviv, Kyiv and Dnipro took part.
What are the conversations about?
Podcasts and longreads of the "Philosophical Garden" are open conversations with musicians, philosophers, directors, artists, founders of Public Union and companies in the field of creative industries, literary critics, actors, curators of art projects and owners, and top managers of international businesses. We learn from them what motivates them to influence the creative industries, what distinguishes an artist from a businessman or what unites them.
In the form of conversation, the interlocutors are looking for answers to the following questions:
In what language do artists communicate with business people?

How and why do people become connoisseurs of culture?

What steps and levers are needed to encourage this involvement in as many people as possible?
Who asks?
Talks are led by Demyan Dyakov [Om] — founder of Universal Open University [since 2014], program director of the beGenius project family [since 2009], licensee of TEDx [2013], licensee of PechaKucha Nights [2012-2020], founder of Improvisators Movement [2009-2015], Member of the Board of the Public Union Cultural Business Education Hub.
Demyan Dyakov [Om]
"The name was born during a conversation with Andriy Palatny and Max Demsky. Then Vlad Troitsky's team held GogolFEST in Dnipro. We were discussing the preparation of the festival while being at the Cultural Hub. That's when the phrase came out that it resembles a certain philosophical garden, — Demyan recalls. — After that, the concept of podcasts was born in my head which had to be turned into longreads. It is important that our people speak. After all, they accumulate a lot of stories, tremendous experience. When the goal to create podcasts was set, I wanted to hear from these people, who are usually known only in small circles. That's why I decided to host podcasts and digitize their thoughts. I really wanted to create a product that would help preserve and disseminate the views of active practitioners to our children and grandchildren."
For whom?
"The texts of Aristotle or Goethe are available to everyone. Question: Do those who do nothing need them? Such texts are usually used by people who need it, who are ready for it, — explains Demyan. — We are open to a wide audience.  But we understand that not everyone will like our product, not everyone will get the same motivation. Our listener is a person equal to the speaker. He or she values ​​his or her environment, a team that has been working hard for a long time to form itself."
Who is responsible?
The authors of the project "Philosophical Garden" have collected a unique slice of thoughts and desires of twenty-one professionals from different creative industries:
Oles Manyuk

— a philosopher and practitioner of Taiji. Candidate of Philosophical Sciences, Lacanian psychoanalyst, personal student of Master Xiao Weijia, student of Master Dzogchen Chogyal Namkai Norbu.  Oles Manyuk has been a representative of the Five Masters School of Traditional Chinese Calligraphy and Painting since 2008. Advanced research consultant at Jansen Capital Management.

Mykola Demchenko

— a co-founder and partner of the company LABS Cultural and Educational Space, a partner of Pravoe Delo, a member of the club of cultural investors, a graduate of Presidents' MBA kmbs, a community leader of the kmbs Alumni Club.

Halyna Pulina

— a teacher-methodologist, journalist, author of books and textbooks on literature, speaker.

Andriy Palatniy

— an actor, theater manager of the DAH Center for Contemporary Art and curator of the theatrical part of the GogolFEST international multidisciplinary festival. In general, he participated in the festival from the very beginning (since 2007). He heads the direction of the theatrical program (development of the festival strategy), as well as international communications, acting as one of the representatives of the festival abroad.

Maxim Demsky

— director of GogolFEST, actor of the theater "DAH". He was a director on TV (TVI, STB), producer and director of films: the documentary "Pandora's Box" about Chernobyl and the feature "House on the Water" (2007). Teacher of acting. Founder of Art Space "6 level" (Kyiv) and underground ZixZixOneFEST.

Volodymyr Petrenko

— director and teacher of the author's Theater "We Believe!" in the city of Dnipro.

Nikita Shalenny

— an artist. He works in the following genres: painting, drawing, video, photography, installation and VR. In November 2018 at the Geneva International Film Festival, his project "Bridge. VR " was nominated for The International Immersive Works. Nikita Shalenny's works can be found in the collections of MOSAC (Krakow, Poland), Faurschou Foundation (Copenhagen, Denmark) and in many private collections in Europe.

Mykhailo Ryabokon

— Head of the Board of the Public Union "Noosphere Association", co-founder of the "School of Engineering", 1st Vice President of the Federation of Space Modeling in Rocket Modeling in Ukraine. Former member of the Supervisory Board of UVCA — Ukrainian Association of Venture Capital and Private Capital. Speaker, mentor at I Cultural Business Hub.

Dima Malenko

— a co-founder and technical director of rollApp, an online application virtualization platform. Software development engineer, speaker and podcaster.

Andriy Melnyk

— the founder of the educational portal Cowo.guru — School of Thinking Development, co-owner of the translation company Profpereklad. A graduate of kmbs, a graduate of the Aspen Institute in Kyiv. Patron, initiator and implementer of a number of socio-cultural projects.

Serhiy Kutovy

— the Innovation Director of the Noosphere Association.  Manages the direction of selection and development of high-tech innovative projects in Ukraine. In the past he headed the department of international cooperation of SE "CB" South ".

Ilya Koenigstein

— the founder and head of the Creative States business space network. Public figure. He heads the PayPal in Ukraine group, promoting PayPal in Ukraine.

Volodymyr Stavniuk

— the team leader of the State Innovative Financial and Credit Institution under the auspices of the Ministry of Trade and Agriculture Development (SIFCU), an experienced specialist in the field of active bank sales. Participated directly in the development strategies of the Bank with McKinsey, KBC (Belgium), KredytBank (Poland), PKOBP (Poland).

Georges Gagnore

— a French theater director, experimental researcher, lecturer at the University of Paris 8 and Anastasia Ternova is an assistant director and translator.

Veronika Sklyarova

— theater critic, producer, lecturer in contemporary art, program director of the Parade-fest. She founded the Beautiful Flowers Theater and directed the theater in the first years of its existence.  Participant of international theater festivals, schools, residences. The main interests are thrash theater, fallow theater, levels of spectator freedom in the era of performativity.

Vlad Troitsky

— Ukrainian theater actor, director, founder of the first independent theater in Ukraine "DAH". Founder and artistic director of the groups DakhaBrah, freak cabaret Dakh Daughters, puppet cabaret TSESHO, project NOVAOPERA. Founder and president of the international multidisciplinary festival GOGOLFEST. Director in theaters in Ukraine, Germany, Hungary, Poland, Switzerland. Officer of the Order of Arts and Literature of France.

Yuriy Filyuk

— General Director and initiator of the project "Promprylad.  Renovation ", co-founder of the platform" Warm City ", co-owner of the company" 23 restaurants ". Yuriy together with the team of the platform "Warm City" implements large-scale projects at the intersection of art with economics, social impact, innovation.

Anastasia Bilous

— CSO & Partner at New Media Services, Partner at Startups Network Switzerland, Tutor at U Open University.

Iryna Solovey

— a community development strategist and president of Garage Gang Garage Gang (since 2008), co-founder of the Big Idea social innovation platform and strategy consultant for the City Code urban development program. She holds a bachelor's degree in economics and management and a bachelor's degree in marketing from McGill University (Montreal, Canada).

Denis Poltavets

— a civil society development expert: since 2016, he has been the program development director at the Aspen Institute in Kyiv. He also worked as a program development manager for the International Renaissance Foundation, an expert and project coordinator for the United Nations Development Program in Ukraine.
Where to read and listen?
A large series of 21 conversations can be listened to on the following podcast platforms: Anchor.fm, Google Podcasts, Breaker, Overcast, Pocket Casts, RadioPublic, as well as Spotify, Apple Podcasts and Castbox.
All longreads and broadcasts of the "Philosophical Garden" project will be published on the portals creativity.ua and culturalhub.org.
The following are working on the "Philosophical Garden":
Podcasts:
sound recording, studio equipment Maksym Paragraf, Pavlo Grendach

erection and installation Maxim Paragraph

sound design Maxim Paragraf, Demyan Dyakov-Om

dictation and eyeliner Artem Ponomarenko, Maxim Paragraph

publication of podcasts by Yan Vladimirov

author and project leader, investor Demyan Dyakov-Om

We thank you for your help in inviting podcast guests: Andriy Palatny, Maksym Demsky, Anna Basova
Longreads:
transcription: Mykhailo Shevelev [1], Yevhen Iskhakov [2], Oleksandr Kukharchuk, Inna Pas [3-21]

rewriting: Oksana Shamonova

adjustment: Daryna Vazhynska

translation and adaptation of texts into Ukrainian and Russian: Oksana Shamonova, Veronika Novikova

letter editing: Veronica Novikova

fact-checking: Daryna Vazhynska [1-2], Veronika Novikova [3-21]

graduating editor: Demyan Dyakov-Om

jurisprudence: Natalia Kravchenko, Yana Vladimirova, Yulia Ovcharenko

accounting and mathematics: Nadiya Romanyuk

marketing: Demyan Dyakov-Om, Konstantin Kuznetsov, Marina Korchaka

design: Vladimir Terekhov, Demyan Dyakov-Om

illustration: Victoria Khodor

layout on the site creativity.ua: Alexey Furman

content planning: editor-in-chief of creativity.ua Maryna Korchaka

promoter of the promotional campaign: Maryna Korchaka

social media marketing: Marharyta Bukhamet

international management: Oksana Shamonova, Demyan Dyakov-Om, Alexandra Gondyul

crowdfunding curator: Oksana Shamonova

crowdfunding mentor: Irina Solovey

translation into British English: Osnovy Publishing House

proofreading and editing of the English version: Osnovy Publishing House
"Philosophical Garden" has just received a sequel — crowdfunding for the English version of theses for publication on European platforms. We want the voices of Ukrainian thinkers to be heard in the international market of cultural and creative industries.
Many of the heroes of the "Philosophical Garden" have become guest tutors at U Open University — new programs in philosophy, design and project management for the cultural and creative industries.